100% met de hand gemaakt van rijkelijk acacia hardhout met scherpe randen, maakt elk stuk uniek. Mooie houtnerfkleuren zonder vlek kunnen enigszins variëren en effect hebben op temperatuur, vochtigheid en droogte als gevolg van natuurlijke houtconstructies. De natuurlijke en elegante acaciakleur op de tafel onthult het smaakgevoel van de gastheer
Duurzame en geteste voedselveilige lak-toplaag beschermt en beschermt tegen het bord. Met het omkeerbare ontwerp, maakt het mogelijk en eenvoudig om beide kanten van het paddleboard te gebruiken of om een ​​ander schoon te houden voor een ongerepte afwerking. Zeer geschikt voor het bereiden en serveren van brood, kaas, sushi, fruit, dessert en allerhande hapjes. Voorbereiding en presentatie kunnen allemaal in één.

Tip: hoe te zorgen
1. Reinig voorzichtig met een spons, in warm water, met een afwasmiddel.
2. Droog grondig en onmiddellijk na het spoelen.
3. Wrijf uw houtproduct eenmaal in de 3 maanden in met minerale olie: Doop een handdoek in de olie en wrijf zachtjes, met een draaiende beweging, over het oppervlak van het hout.
4. Veeg overtollige olie af met een zachte, pluisvrije doek of een schone handdoek.
5. Stel het product niet bloot aan hitte of zonneschijn
Certificering: FDA, LFGB
Feature: Eco-vriendelijk
Plaats van herkomst: China
Merknaam: LIVEON
Verpakking: doos
Afmetingen: 32X24X1.3CM
Logo: laser / ets
MOQ: 700 stks
Steekproef: 12-15 dagen
Kwaliteit: Food Grade Safe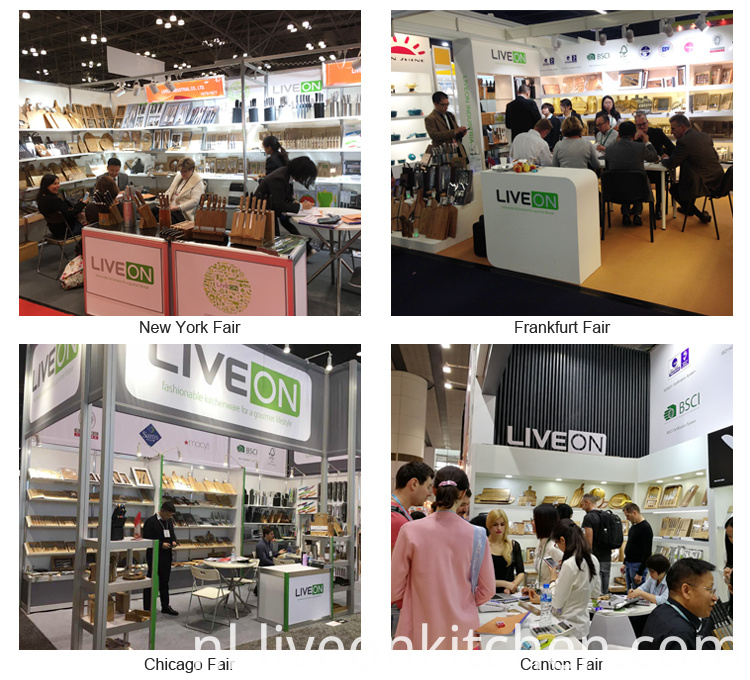 Product Categorie : Kaasgereedschap > Kaasplankenset